Had a meeting with the Skit Guys about their website (skitguys.com) and shots some portraits afterward for the new site we were working on. See more from this shoot on Flickr.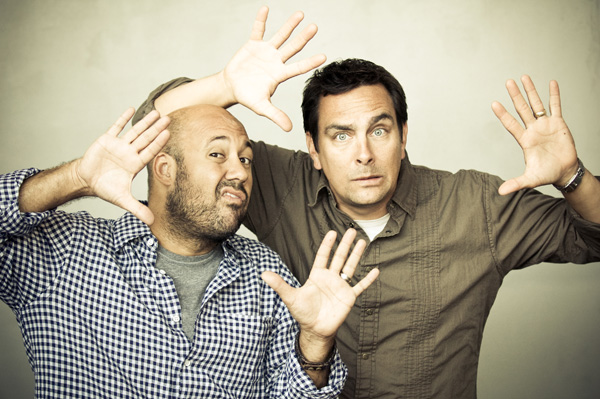 Wide awake at 2:14 am. I can't fall asleep so I've been looking at iPhone apps. I am writing this from an app I just downloaded for the iPhone called WriteRoom. The original WriteRoom is a desktop application for the Mac OS for distraction free writing. You know, something to keep you from checking Twitter every 5 minutes while you try and write.
The iPhone version of WriteRoom is pretty basic like it's desktop version, which makes it so great to use. It also allows you to email your document or pull it up on your local computer using wifi which is pretty slick. I haven't tried it yet obviously (still writing from in bed). It also lets you type in landscape mode!
Hopefully a simple tool like this will allow me to write more when an idea comes to me. We'll see. For now, I just need to find an app that will help me fall asleep. Hrm…Flight Control maybe? Maybe not!

Posted photos to my flickr page from PlanetWisdom this past past two weekends in DFW TX. Most of the shots are from the concert and worship times.



60 days ago in November I downloaded the application Lose It! on my iPhone. The next day, I opened up an early Christmas gift, the Wii Fit. I did my first weigh in at 180 lbs on the Wii Fit. The Wii told me my ideal weight was 162, which would make my BMI 22. I never exercise on a regular basis, and I don't eat very healthy. In August, I started working out of my house instead of the office I was currently at. In an office you get some casual activity during your day, even if it's just a walk to the copier or to someone's office to ask them a question. Working from home, you roll out of bed and into your chair and sit in front of a computer all day. If you're lucky, you'll remember to get up to take a shower.
After a couple of months of working from home, I could tell I needed more activity in my day. That's why I wanted to get going on the Wii Fit. I also knew that I had to start eating better, so the Lose It! app allowed me to keep track of my calories. I'm a person who loves stats and graphs and trends. The Wii Fit and Lose It! provided great charts for me to follow as I progressed on this journey of eating better and exercising.
On the Wii Fit, I would typically exercise around 30 minutes. There were some days I didn't exercise at all, and even a week over Christmas where I didn't have access to my Wii Fit. With Lose It!, I was able to keep track of my calories at all times, no matter where I was at. That was a huge help. I eventually started losing weight and just over all feeling better. I was still eating foods like Hot Dogs and Pizza, only now it was turkey dogs on whole wheat buns with carrots and Lean Cuisine Pizzas (which I think are really good). Fortunately I don't usually like mayo, or any other sauces on my foods, so that made it a little easier for me to adjust.
60 days later, I now weigh 162! I couldn't have done it without the combined tools of Lose It! and the Wii Fit. Now for the next trick, not losing any more weight! It's hard to imagine that I used to consume 2,000 plus calories in a day after being limited to 1,500. I think tomorrow I'll eat a donut!

This is the second performance from my fourth year doing Biola's Mock Rock. Loved this one because I think there was maybe only 5 people in the audience who had seen Waiting for Guffman at the time. Enjoy!

Most Presidential candidates focus on different demographics like the female vote or the African American vote when campaigning. Unfortunately, there is one demographic that the candidates are over looking. The Dominos Pizza eaters vote. Recently, I ordered a pizza online at Dominos.com and after my ordered was placed, I was polled on the 2008 Presidential Race while I waited for my pizza to be prepared. I've posted the results at that time below. What's interesting is that there are 14% of those who took the poll who don't plan on voting on election day. If all those happen to be Obama voters, then McCain and Obama are in a dead heat. That's probably not the case though. So why are Dominos Pizza eaters more likely to vote for Obama? I have no idea, but I would like to see the results broken out based on pizza crust preference.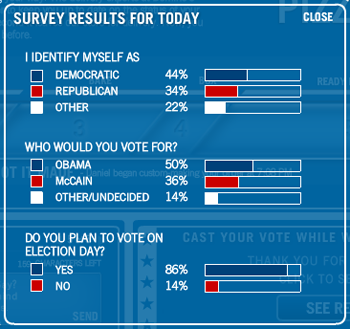 This was the fourth and last year performing at Biola's Mock Rock. This particular year I did two performances. This and Waiting for Guffman. Enjoy!