This was the third year performing at Biola University's Mock Rock. Unfortunately we were the first group out and the audio wasn't turned out loud enough. We could barely hear. Enjoy!

Recently I purchased EyeTV 250 Plus from Elgato. This new piece of hardware allows me to record my old analog VHS videos to my computer. I've been going through my old tapes and have started converting some classics. First video I captured was The Jackson 5 performance I did when I was at Biola University in 1997. Here it is in all it's glory:

This was our second year performing at Biola University's Mock Rock. Tights was our theme. Enjoy!

Experimenting with scanning in my doodles and then painting them in photoshop. Here is one of my early tests of an alien in front of a moon. I don't doodle aliens much. To paint this picture I used some Photoshop brushes. I'll continue to post more of my doodles once I get around to scanning them.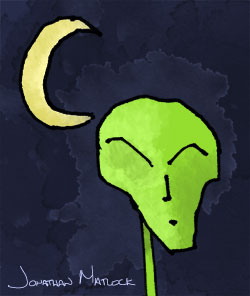 In the summer of 2007 I began work on the stage design for the 2007-2008 PlanetWisdom Tour. The PlanetWisdom Tour is a conference event for junior high and high schoolers that travels nationally to 13 cities. I thought I'd post the process of the stage design from sketch to reality. First came the sketch: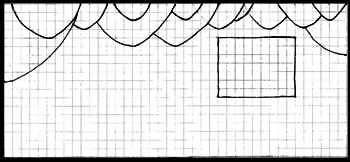 This sketch is based on the standard size of our stages. It shows overlapping swags of fabric with a projection screen off to the right. Next came coloring this sketch in Photoshop: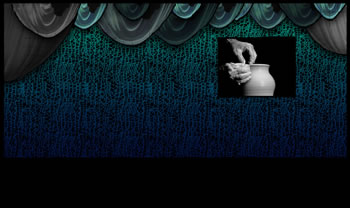 This process of coloring my sketch is important because it usually helps in selling the concept to the rest of the PlanetWisdom staff. It's also helpful in showing the desired outcome so the lighting director can help make it come alive.
Once the sketch was colored, I had to make a final decision on what colors the swags would be, and how those colors would play off the lighting that would be added later. I decided to go with three colors, dark gray, silver and a fuchsia. After calculating how many swags I would need to hang from the top lighting truss, I then placed the order for the swags to be custom made by Rose Brand. I've been working with Rose Brand for the past three years and it's always a great experience. After the pieces arrive, myself and the great crew from B&L Sound & Lighting put up the pieces to make sure we received everything correctly.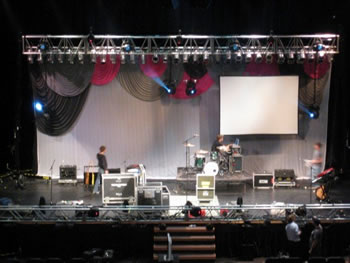 Everything looks good, but it's still not quite right until we light it up. With the help of lighting director Camron Ware from Visual Worshiper, the stage comes alive and the vision becomes reality.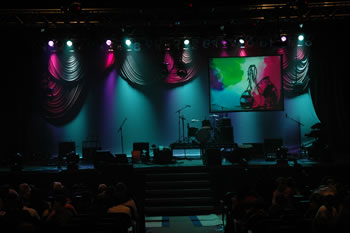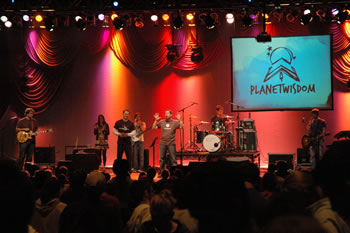 Thanks to the help of Rose Brand, B&L Sounds and Lighting and Camron Ware, we were able to take a pencil sketch and make it live!

I began designing a new site using Expression Engine for my publishing system this summer. I just switched my site over from WordPress to Expression Engine. There is still much to be done, but I figure I might as well switch now. The current design has at least, if not more, than what I was doing with my other site using WordPress. I have found Expression Engine to be much more user friendly and fun to work with than WordPress. I'm currently using the free version of EE Core, but may upgrade soon to taste some of the modules that come with a paid license.
Hopefully over the next few months I'll be able to continue to finish out my intended design for this site and add some more "features."

I started working with ShiftWorship.com back in 2005. This is a redesign of their site. They offer motion and still backgrounds, countdowns and mini movies for the local church at a low rate yearly subscription. It's an awesome service!