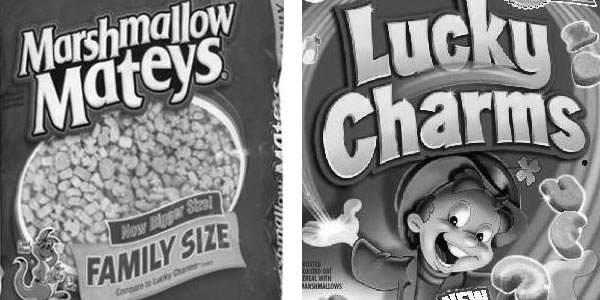 I eat a lot of cereal. I have a bowl of Lucky Charms most nights before I got to bed so I can have magically delicious dreams. Lately I've been in a personal challenge to reduces my expenses. While at Wal-Mart one day I took a serious look at the big bags of cereal. The savings was significant over the name brand cereals. But could it really taste as good? After two weeks of pondering the idea, I purchased my first bag of Malt-O-Meal's version of Lucky Charms, Marshmallow Mateys.
While there is a slight difference in taste, I was really impressed with my Marshmallow Mateys. I've only had one bowl as of this writing, but immediately concluded that it can officially replace my purchasing of Lucky Charms. I even wanted another bowl after I was done, but that would defeat the goal of saving money!
The main differences I noticed were that the oats don't seem to hold their crunch as well, but this only matters if you like to let your cereal sit. Gross. The other difference was the marshmallows. I think I preferred the Mateys mallows better as they were not as sweet as Lucky's.
I haven't done a complete analysis of the cost, but off the top of my head I will save at least $3 a month on Lucky Charms alone. That's $36 a year! Plus the packaging for Malt-O-Meal is apparently better for the environment as found on their Bag the Box site. Give it a try yourself. Malt-O-Meal offers a money back guarantee if you don't like the taste. How can you go wrong?

blog comments powered by

Disqus